Foreign Language Films --- Lost in Translation?
"Letters from Iwo Jima" and "Apocalypto" confused the heck out of the Golden Globes folks last year! Both films are too foreign to be nominated for Best Picture so they were relegated to the foreign-language film category.
Meanwhile, at the Oscars, both films were too American to be Best Foreign-Language Film contenders!
So what's going to happen to "The Kite Runner?"
The problem-plagued film is getting major buzz, but the Hollywood-produced movie may either be too American for the Oscars, and too foreign for the Globes.
[ 33 comments ]
( 1506 views ) |
permalink
|
( 3 / 1337 )
---
First It Was June Carter Cash, Now...Reese Witherspoon Wants to Play...
HEATHER MILLS!!!
According to
PAGE SIX
, Reese wants to play the ex-Beatle's wife but wants an unknown to play Paul McCartney.
There are supposed to be a lot of back-door secrets that are going to be revealed!!!!
But Reese as Heather Mills? Pleazzzze!!!!
[ 13 comments ]
( 525 views ) |
permalink
|
( 3 / 1423 )
---
Torture Porn Flick Slashes Box-Office Competition
"Saw," the franchise, continues to draw box-office blood, even with the inane "Saw IV" which LIONSGATE FILMS hid from critics!
The scary part of this whole thing is that we only have roughly about 360 days before "Saw V" comes out, and THAT my lovely readers, is more frigtening than any "Saw" films combined!
Here's your top ten movie moneymakers!
1. "Saw IV," $32.1 million.
2. "Dan in Real Life," $12.1 million.
3. "30 Days of Night," $6.7 million.
4. "The Game Plan," $6.3 million.
5. "Tyler Perry's Why Did I Get Married?", $5.7 million.
6. "Michael Clayton," $5 million.
7. "Gone Baby Gone," $3.9 million.
8. "The Comebacks," $3.45 million.
9. "We Own the Night," $3.4 million.
10. "Tim Burton's the Nightmare Before Christmas," $3.35 million.
[ 46 comments ]
( 1919 views ) |
permalink
|
related link
|
( 3 / 1444 )
---
"SPIDER-MAN 3" DVD COMES OUT OCT. 30TH -- HERE'S MY REVIEW!!!!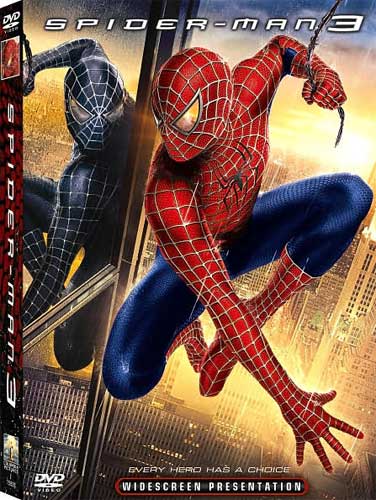 My review of "Spider-Man 3" when it came out in theaters back in May.
We all enjoyed "Spider-Man 1 & 2" and the third one, not the strongest of the bunch, but it still sticks!
FOR MORE INFO ON THE UPCOMING DVD RELEASE, CLICK HERE!!!
[ add comment ]
( 33 views ) |
permalink
|
( 3 / 1441 )
---
"DAN IN REAL LIFE" MOVIE REVIEW -- IS THE FILM REAL ENOUGH?
Hi everyone...here's my little review of the film "Dan in Real Life" starring Steve Carell, Dane Cook, and Juliette Binoche. All I can say is, Carell saves the day!
SAW IV WASN'T SCREENED FOR CRITICS, HHHMMMM...I SMELL A STINKER! THEY SHOULD STOP...STOP...MAKING ANYMORE "SAW" FLICKS!!!! THE FIRST ONE ROCKS...AND THAT'S IT!!! LET'S SAW THIS FILM INTO PIECES!!!!
Going back to "Dan in Real Life," for an in-depth look at my review of the movie, check out my newspaper article, yes I can write, at
The Desert Post Weekly
or check
my Helium page and vote! THANKS BUNCHES AND HAVE A LOVELY DAY!!!!!
[ 30 comments ]
( 1369 views ) |
permalink
|
( 3 / 1454 )
---
<<First
<Back
| 1089 | 1090 | 1091 | 1092 | 1093 | 1094 | 1095 | 1096 | 1097 | 1098 |
Next>
Last>>