Here you go, my Top Five Horror Flicks! These films scared me straight (well, not quite) when I was a kid, and they're still creepy after all these years...
[ add comment ]
( 281 views ) |
permalink
|
( 3 / 1477 )
---
I had a blast in front of the green screen with my favorite character, Dino!
HAVE FUN!
[ 23 comments ]
( 1137 views ) |
permalink
|
( 3 / 1431 )
---
I love Stephen King, and "The Mist" is one of the strongest novellas in his collection, "Skeleton Crew."
Plus, director Frank Darabont gets the quirky mind of the author. He turned "Shawshank Redemption" into a cult-phenomenon, and "The Green Mile" into an Academy-award nominated flick!
The film doesn't open until Nov. 21st, and early buzz suggest strong word of mouth.
For now, let's all enjoy THE NEW TRAILER NUMBER TWO OF "THE MIST."
FOR THE HD VERSION, CLICK HERE
[ 19 comments ]
( 1049 views ) |
permalink
|
( 3 / 1434 )
---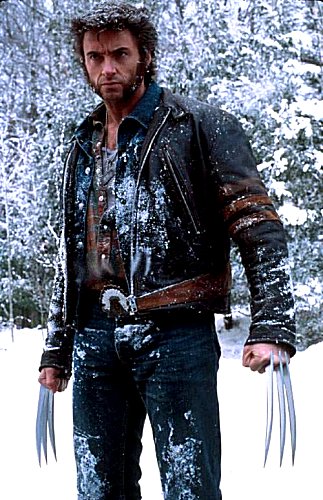 Exciting news about Wolverine:
1) We have a title -- "X-Men Origins: Wolverine"
2) Director Gavin Hood is set to direct -- he must do a better job than "Rendition" though...
3) It will feature many new mutants.
4) Liev Schreiber is in final talks to take on the role of William Stryker!
5) According to Variety, pic explores the claw-wielding character Wolverine's violent and romantic past, and his complex relationship with Victor Creed and the ominous Weapon X program, as well as his encounters with other mutants.
6) The film is set to open May 2009
7) And yes, Hugh Jackman is set to reprise his star-making role!
[ 42 comments ]
( 1399 views ) |
permalink
|
( 3 / 1425 )
---
Naomi Watts is set to star in the remake of Alfred Hitchcock's "The Birds."
"Casino Royale" director, Martin Campbell, is in talks to direct.
Michael Bay's production team is also set to produce this reimagining of Daphne du Maurier's short story.
I enjoyed "The Birds" when I was a kid, it scared the bejeesus out of me. I'm a sucker for "animals gone wild" film, and "The Birds" is a prime example of that.
And of course, we all bow down at the altar of Hitchcock, which leads me to my question -- why remake another Hitchcock classic? (are the filmmakers aware of the laughable fate that met a remake called "Psycho?")
[ 28 comments ]
( 1490 views ) |
permalink
|
( 3 / 1359 )
---
<<First <Back | 1089 | 1090 | 1091 | 1092 | 1093 | 1094 | 1095 | 1096 | 1097 | 1098 | Next> Last>>