First, it's "The Aviator," then, the fantastic "The Departed," now, Martin Scorsese and Leonardo DiCaprio will reteam for "Shutter Island," an adaptation of a Dennis Lehane novel.
Pic will be co-produced by Paramount and Columbia.
This is interesting, the producer of TV's "Bionic Woman," will be writing the script, Laeta Kalogridis. But she also wrote "Birds of Prey" and "Nochnoy dozor" ("Night Watch") AND "Alexander." Yikes! All I can say is she better turn a great script!
So what's "Shutter Island" really about? Let Google Book Search explain,
"The year is 1954. U.S. Marshal Teddy Daniels and his new partner, Chuck Aule, have come to Shutter Island, home of Ashecliffe Hospital for the Criminally Insane, to investigate the disappearance of a patient. Multiple murderess Rachel Solando is loose somewhere on this remote and barren island, despite having been kept in a locked cell under constant surveillance. As a killer hurricane bears relentlessly down on them, a strange case takes on even darker, more sinister shades -- with hints of radical experimentation, horrifying surgeries, and lethal countermoves made in the cause of a covert shadow war. No one is going to escape Shutter Island unscathed, because nothing at Ashecliffe Hospital is what it seems. But then neither is Teddy Daniels.
[ 33 comments ]
( 1316 views ) |
permalink
|
( 3 / 1311 )
---
Here you go, my Top Five Horror Flicks! These films scared me straight (well, not quite) when I was a kid, and they're still creepy after all these years...
[ add comment ]
( 277 views ) |
permalink
|
( 3 / 1338 )
---
I had a blast in front of the green screen with my favorite character, Dino!
HAVE FUN!
[ 23 comments ]
( 1133 views ) |
permalink
|
( 3 / 1275 )
---
I love Stephen King, and "The Mist" is one of the strongest novellas in his collection, "Skeleton Crew."
Plus, director Frank Darabont gets the quirky mind of the author. He turned "Shawshank Redemption" into a cult-phenomenon, and "The Green Mile" into an Academy-award nominated flick!
The film doesn't open until Nov. 21st, and early buzz suggest strong word of mouth.
For now, let's all enjoy THE NEW TRAILER NUMBER TWO OF "THE MIST."
FOR THE HD VERSION, CLICK HERE
[ 19 comments ]
( 1044 views ) |
permalink
|
( 3 / 1277 )
---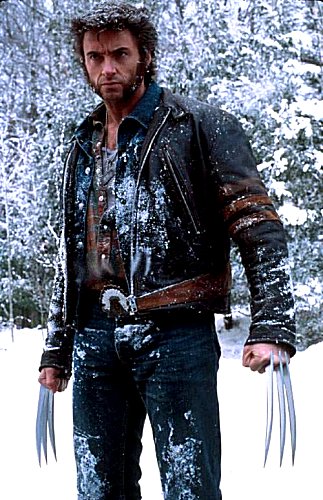 Exciting news about Wolverine:
1) We have a title -- "X-Men Origins: Wolverine"
2) Director Gavin Hood is set to direct -- he must do a better job than "Rendition" though...
3) It will feature many new mutants.
4) Liev Schreiber is in final talks to take on the role of William Stryker!
5) According to Variety, pic explores the claw-wielding character Wolverine's violent and romantic past, and his complex relationship with Victor Creed and the ominous Weapon X program, as well as his encounters with other mutants.
6) The film is set to open May 2009
7) And yes, Hugh Jackman is set to reprise his star-making role!
[ 42 comments ]
( 1395 views ) |
permalink
|
( 3 / 1284 )
---
<<First
<Back
| 1087 | 1088 | 1089 | 1090 | 1091 | 1092 | 1093 | 1094 | 1095 | 1096 |
Next>
Last>>