"SPIDER-MAN 3" DVD COMES OUT OCT. 30TH -- HERE'S MY REVIEW!!!!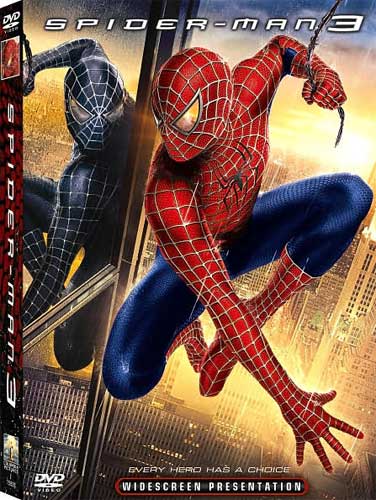 My review of "Spider-Man 3" when it came out in theaters back in May.
We all enjoyed "Spider-Man 1 & 2" and the third one, not the strongest of the bunch, but it still sticks!
FOR MORE INFO ON THE UPCOMING DVD RELEASE, CLICK HERE!!!
[ add comment ]
( 36 views ) |
permalink
|
( 3 / 1465 )
---
Hi everyone...here's my little review of the film "Dan in Real Life" starring Steve Carell, Dane Cook, and Juliette Binoche. All I can say is, Carell saves the day!
SAW IV WASN'T SCREENED FOR CRITICS, HHHMMMM...I SMELL A STINKER! THEY SHOULD STOP...STOP...MAKING ANYMORE "SAW" FLICKS!!!! THE FIRST ONE ROCKS...AND THAT'S IT!!! LET'S SAW THIS FILM INTO PIECES!!!!
Going back to "Dan in Real Life," for an in-depth look at my review of the movie, check out my newspaper article, yes I can write, at
The Desert Post Weekly
or check
my Helium page and vote! THANKS BUNCHES AND HAVE A LOVELY DAY!!!!!
[ 30 comments ]
( 1371 views ) |
permalink
|
( 3 / 1481 )
---
Written by Dan Brown, the book was published in 2000 and introduced the character Robert Langdon to the world of popular culture.
In 2003, mass hysteria surrounded the much-hyped "The Da Vinci Code."
Then in 2006, Tom Hanks and director Ron Howard teamed up for the film version, which was just okay!
I read "The Da Vinci Code," I loved the sense of intrigue it brought, but the film adaptation irked the heck out of me! And Hanks' flippin' hair-do didn't help!
So now, amidst the impending writers' strike, Howard and company are putting "Angels and Demons" on a super fast track. Hope this film version will be better, and Hanks will pick a better hair stylist!
So what's "Angels and Demons" about? Let's Wiki it!
Angels & Demons follows Harvard symbologist Robert Langdon, as he tries to stop what seems to be the Illuminati, a legendary secret society, from destroying the Vatican City with the newly-discovered power of antimatter.
CERN director Maximilian Kohler discovers one of the facility's most respected physicists, Leonardo Vetra, murdered in his own secured, private quarters at the facility. His chest is branded with a symbol — the word "Illuminati", formed as an ambigram, using a hot iron. Instead of calling the police, Kohler researches the topic on the Internet and finally gains contact with Professor Langdon, an expert on the Illuminati. Kohler requests his assistance in uncovering the murderer.
What Langdon finds at the murder scene frightens him: The symbol appears to be authentic, and the legendary secret society, long thought to be defunct, seems to have resurfaced. Kohler calls Vetra's adopted daughter Vittoria to the scene and it is later revealed that the Illuminati has also stolen a canister containing a quarter of a gram of antimatter — an extremely deadly substance that could destroy an entire area when in contact with matter. When charged with electricity at CERN, the canister's magnetic field controls the drop of antimatter to float in a pure vacuum, ensuring safety; but when it is taken away from its electricity supply, the canister will automatically switch to using its back-up battery, which lasts for only 24 hours. The horrible truth is that now the Illuminati has put the stolen canister somewhere in Vatican City, with a security camera in front of it as its digital clock counts down to the explosion.
[ 32 comments ]
( 1332 views ) |
permalink
|
( 3 / 1536 )
---
It's based on a book by Don Winslow called "The Winter of Frankie Machine."
Now, I hate to typecast De Niro, but mention the words De Niro and Mob, and you get that old, tingly sensation!
Just read the book's description taken from Don Winslow's official site:
People are products of their past, and trying to reinvent yourself from the influences of any profession during the years of retirement is always problematic. When your first career was a hit man for the mob, the past can be more than simply an influence on your present, it could be a termination of your future.
Frank Machianno, aka Frankie Machine, retires from his life as a contract killer and begins a new life in San Diego. Far removed from any of the thrills of his mob life, he opens a bait shack on Ocean Beach Pier, runs three other legit businesses, and when nothing else demands his attention, puts his board in the water and rides the waves. Not a bad life for the 62-year-old Vietnam vet; at least most of the time it is quiet.
Frankie's life however returns to the tension, suspense and terror of the 'old-days' when the head of the Los Angeles syndicate calls in a marker, and asks him for backup during a meeting with members of the Detroit mob. The meeting is suppose to be an effort to resolve the current disputes between the two groups, but turns out to be a setup to end Frankie's life.
Now, rather than sitting on the shoreline thinking about his past, Frankie is thrown back into that world, and forced to follow a trail of bodies, to search out which of his past crimes has surfaced from the tide to end him.
[ 23 comments ]
( 1164 views ) |
permalink
|
( 3 / 1503 )
---
So, this is an intriguing news! Jamie Foxx signed on to do "The Zebra Murders: A Season of Killing, Racial Madness, and Civil Rights." It's based on a book by Bennett Cohen and Prentice Earl Sanders.
Reading the description of this film, it sounds like a Denzel Washington movie...BUT...I would gladly see Foxx in this gripping, true-to-life story of murder, racism, and the law!
Here's a quick description:
The riveting story, told by San Francisco's first black police chief, of the racially-motivated serial killings—black on white—that terrorized the city in the winter of 1973–4, and how it was solved...by black detectives.
[ 21 comments ]
( 1054 views ) |
permalink
|
( 3 / 1506 )
---
<<First <Back | 1089 | 1090 | 1091 | 1092 | 1093 | 1094 | 1095 | 1096 | 1097 | 1098 | Next> Last>>